Why Reliance Jio is Very important for India
Reliance Jio has changed the whole industry in many ways. It has set new parameters of competition and has reduced monopoly.
In a country where usage and demand is growing, opportunity arises not only for new business but also for the exploitation through monopoly. This is what exactly happened before Jio. While Indian Internet traffic grew at an exponential rates, the data tariff plans which started at very expensive rates, remained same even with the growing competition. This was rather preposterous given that the quality of service and speed dropped like anything till the arrival of 4G.
4G came and with it an opportunity of making an extra amount of money because the data consumption was very high (speed & data ratio) and the need for data recharge would increase more than ever. It was like corporate hawks luring customers into the trap by a glittering 4G rope. Then came Jio and it changed internet forever.
Here, have a look at the Old and New Data tariffs from Airtel.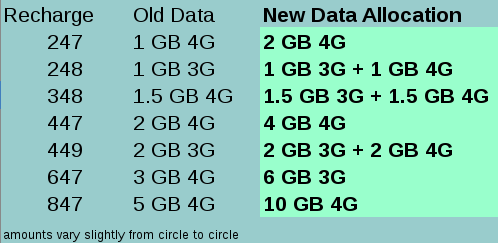 The rates are now adjusted to the data tariff level which a country like India should start with. Airtel & Vodafone leads the Indian telecommunication section and thus were undisputed lords of the sphere. The price wars were just to lure customers to switch their network providers. Since there was no other option, users have to move on with Airtel/Vodafone's overpriced rate.
What happened after Jio?
Destruction & annihilation of the monopoly by Airtel/Vodafone in the area of internet data service. People literally lined up to get the Free sim and the Free data offer. In no time Reliance made a world record of acquiring fastest amount of users. The Free element played a crucial role in that. The data charges of Airtel/Voda, which somehow were stagnant since last decade, dropped like anything. The war of providing data services shifted from 4G to data plans. Hype was created and somehow proved to be true. Some acquaintance who works in Airtel's Marketing department are now working on strategies to tackle the current situation.
This is not the first time.
This is not the first time this is happening. It happened a few years back as well. Reliance Mobile launched CDMA mobiles which were for Rs.500 and costed Rs.1 initialy. Million and millions of customer flooded to get it and people in India got a gist of what a mobile is. The competition was erased though via Nokia and Samsung but the point is that this step branded Reliance in ways no one could imagine. This move which was made decades ago not only made a simple Indian accessable to the mobile technology but it also started a new era of mobile boom in India.
What will happen now?
Jio made a milestone in the Indian Internet domian. It will make a fine amount of money and will get a lot of users where some of them would be common among Airtel/Vodafone & Jio. People will use Jio for data plans and they will use Airtel/Voda for calling purposes. People will buy smartphones which are with Reliance Jio offers and will opt for dual sim mobiles. Airtel/Voda will launch new campaigns about service quality and speed keeping relations in centre. Jio, if not updated with time (not in terms of plans but technology), will diminish. This will not happen though as Reliance has already placed a lot of money in the venture.